Genesis International Alliance Launches 2nd Billion-Dollar Asset Portfolio in Partnership with Yu Tian Tang at Manila Gala Ceremony
Genesis International Alliance (GSI), a multi-billion-dollar international asset management firm specializing in investments in the stocks and equities of companies with strong growth potential in the long term, has launched its 2nd Billion-Dollar Asset Portfolio in partnership with Yu Tian Tang at a gala ceremony held in Manila on July 25th, 2019.
The asset portfolio is a joint partnership between Genesis International Alliance (GSI) and Yu Tian Tang, a subsidiary company of New Trend Lifestyle Group, the world's very first publicly listed geomancy company.
GSI's 2nd Billion Dollar Asset Portfolio debuts at a time where having a diversified investment portfolio and investing in the stocks and equities of companies with strong long-term growth potential is the key to long-term success and value creation.
Yu Tian Tang 's ability to seamlessly integrate cutting-edge technology of the modern era, such as the Internet, Artificial Intelligence (AI), Augmented Reality (AR), DAPP blockchain decentralized applications, Big Data analytics and processing into the traditional geomancy industry has given the company a competitive edge in an era where Big Data is the key to success.
Notable products from Yu Tian Tang includes the "Yuan Da Shi" mobile app that has multiple functions and the Longevity Blockchain contract. These products are able to effectively leverage upon cutting-edge technology to thoroughly revolutionize an industry that is steeped in tradition.
Services offered by the "Yuan Da Shi" mobile app include online daily divination, AI-based reading of facial features, AR-based geomancy, the lighting of prayer lamps, ancestral remembrance, online consultations, palm reading, shopping mall for luck enhancement products, courses and cultural education.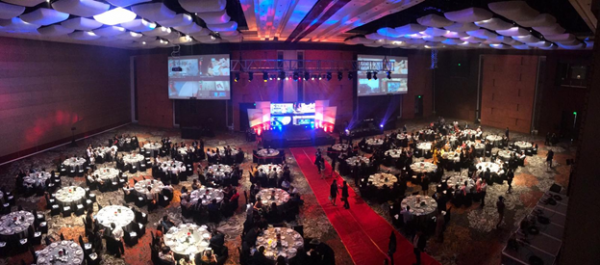 The Longevity Blockchain Contract leverages upon the advantages of DAPP blockchain and smart contract technologies to provide customers with contracts that are unalterable and take effect immediately.
Additionally, Yu Tian Tang's very first flagship project, located in Chengdu, Sichuan Province, China will establish the world's leading large-scale cultural and historical scenic spot that is second to none.
These innovative products and assets, in addition to generating a stable income stream, also facilitates the collection of Big Data which further creates value for the entire asset portfolio. GSI has managed to capitalize upon these competitive advantages and key competencies to bring about the true integration between Enterprise and Big Data, thereby creating another Billion-Dollar Asset portfolio in addition to the established Multi-Billion Integrated Asset Portfolio.
As such, the gala ceremony on 25th July 2019, which saw some of GSI's most outstanding partners and key stakeholders gather in Manila, marks a key milestone for both GSI and Yu Tian Tang.
Media Contact
Company Name: Genesis International Alliance
Contact Person: David Peterson
Email: Send Email
Country: Seychelles
Website: https://genesisintl.com/